The horrific shooting in Buffalo is the latest violent reminder that the disease of racism is still raging in our society. At St. Francis we are proud of our diverse community made up of people of "from every nation, race, people, and tongue" (Rev. 7:9) who come together in love as brothers and sisters to worship God.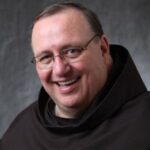 We are honored to have Fr. Kevin Mullen OFM, Provincial Minister of Holy Name Province to lead our discussion. Fr. Kevin holds a doctorate in moral theology from The Catholic University of America in Washington, DC. (bio)
Join us for a night to discuss how our racism impacts us, what the Church teaches about the sin of racism and how we can work to address this scourge in our nation.
Click HERE for a PDF flyer of the event.
All are Welcome
Wednesday, June 8, 2022
6:30 – 8:00 PM
San Damiano Hall