The Christmas flowers and wreaths which adorn our church at Christmas are offered to honor the birth of Christ and to glorify God.
Thank you to everyone who donated toward our Christmas decorations.
In Memory of:
Carlina Apolinaris Acevedo
Francisco Castro Astacio
Basso Family
Alfred Lee & Catherine Bowse
The Brown Family
Anthony Carbone
Angelina Carbone
Maria Carbone Muia
Nancy Carbone & Salvatore Carbone
Robert Carter
Patricia Ann Castro
The deceased members of the Cipriani Family
The deceased members of the Colozzi and DeLuca families
Gregory Paul Conyers
Bertha & Charles Degnan
In memory of parents Frank and Giovannina DiPaolo, Aunt Nunziata DiPaolo and grandparents Felice and Maria DiPaolo
Thomas & Theresa Dolan
James + Mary Dunleavy
Anna + Michael Dunleavy, Sr.
The Dunleavy Family
Caroline M. Fagan
Joseph Fagan
Fisco Family
Anthony M Galgano Jr.
Roberto Ghan, Grace Ghan Duroy, Henry Gahan, Rosario Peralta,
Joan Dorothy Gilbride
Thomas Aquinas Gilbride
Charles Francis Gilbride
Catherine Collins Gilbride
Ruth Anne Gilbride
Edmona Glasgow
Joseph A. Gorski, Sr., Irene J. Gorski
The deceased members of the Harlan and Lediger Family
Elizabeth Healy
Billy Heuser
The deceased Members of the Huston & Staub Families
Jane R. and Charles Janiak
M. Knowles, R. Knowles, E. Friend, R. Isaacs, S. Ross, M. Kuerzi
Deceased Memembers of the Le, Kane & McCarthy Families
James Lloyd
Edward Loftus
Mary Locz
Padre Santiago Mallen, CSSR
Alice McCormack
Helen McKeon
Joan Melone
In Memory of Michael Mitchell & Helen Bloomer
William "Bill" C. Morrisey
The deceased family members of Billy & Kim Morrisey
William C. Morrisey
William C. Morrisey
Lafacadio Molina
Rev. Paul Moore, Jr.
William C. Morrissey
William Morrisey
Juan Martin Peralta, Rosita Peralta Cayab Yab, Rufina Ghan
James and Fondine Petkins
Eric A. Rivera, Sr. Jo Laurienzo, SND, Corinne Garnek
Candida Rose and Gerchow Rose
In Memory of Stephen J. & Frances M. Rosty from the Rosty Family
Anne Marie Sargusingh
Tata Luz M. Perez Santiago
Joseph Serluco
Joan Sexton
George Soresco
Jessie Q. Sotto
Starzey Family
Isabel Tarud
Maria Lourdes Tarud
Gabriel Tarud
Humberto Tarud
Ruth and Larry Thorne
Roy and Evelyn Tucker, Eileen and Larry Boyd, Mollie Powell, All those I love
Members of the Valencerina Family
Celeste Vazzana
Dorothy Wendt
Jennie + Charles Wildes, Sr.
And for the special intentions of:
Leroy Potter Alphonso
Adrienne Augustin
Rev. John Beddingfield
Fr. Michael Carnevale, Fr. John Felice, Fr. David McBriar
Uchenna Chukwujekwu
Mazda  F.
Fr. Michael Falce
Michael Gilbride
Providencia Castro Apolinaris de Gilbride
Axel Molina Family
Joan Padgett
Dorothy Waleski
Elsa Young
(*names are listed in alphabetical order by the donor's first name)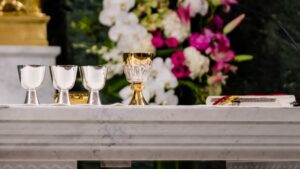 The Bread and Wine for the Christmas Masses were donated by:
Ndidi Chukuma
Valerie Justiniano
Shirish Sivaraj
+