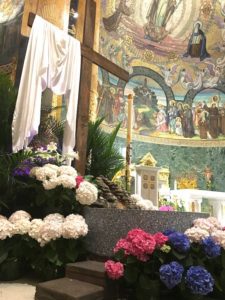 The flowers and plants that decorate our church at Easter are a sign of our joy in the Resurrection of Christ and our hope in the resurrection of those who have gone before us.
We invite you to remember deceased members of your family and friends with a donation for our Easter decorations.  This helps offset the cost of our Easter decor.
You can make your donation online using the form below.
You can also mail a donation to:
Church of St. Francis of Assisi
Attn: Easter Flower Donation
135 W. 31st Street
New York, NY 10001
Or you can make a donation in person at the front desk.
The names of those received by Tuesday, March 30 will be posted on the Church website for Easter.