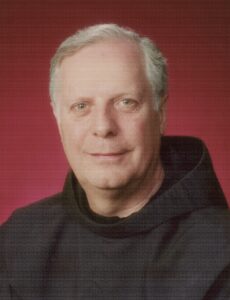 The Mass of Resurrection will be this Saturday, August 5th at 11AM. At the church of St. Francis of Assisi
Fr. John M. Felice, OFM, a Franciscan friar and pioneer in supportive housing for the homeless mentally ill, died on Monday, July 31, 2023 at St. Lawrence Friary in Beacon, New York, from an Alzheimer's related illness. He was 81 years old. He had been living at the skilled nursing care facility for retired and infirm religious since December 2021. Funeral arrangements, a Mass of Christian Burial, and interment will be announced in the upcoming days.
His six decades as a professed Franciscan friar, 54 of those years as an ordained priest, with the New York-based Province of the Holy Name of Jesus, encompassed a rich and broad range of ministerial assignments that included parish pastor, formation director, social justice activist, advocate for the homeless, and two-term provincial minister of the province.
But of all his ministries, Fr. Felice received national recognition for his trailblazing work and bold vision in community-based support facilities for the homeless in New York City. And it was the ministry he cherished the most, singling out his work with the homeless and mentally ill as his most significant achievement of religious life.
In 1980, he established the first St. Francis Residence in Manhattan's Chelsea neighborhood – a residential program that provided permanent supportive housing in a dignified and stable environment with on-site medical, psychiatric, wellness and social services to New York City's homeless struggling with severe mental illness. It was the city's first of its kind.
Fr. Felice's vision and ground-breaking work – and the success of the St. Francis Residence – served as a national model for the permanent supportive housing movement of the 1980s. He eagerly assisted government agencies and non-profit housing programs throughout the country and the world in establishing similar programs. Fr. Felice was enlisted by New York city and state agencies and lawmakers to help craft policy and legislation to address the then-burgeoning crisis of homelessness, particularly the mentally ill who had been left to fend for themselves after their discharge from state-run facilities that were shut down in the late 1970s in an effort to deinstitutionalize mental illness.
Two years after opening the first residence on E. 24th St. and Lexington Ave., Fr. Felice and two other friars, Fr. John McVean, OFM, and Fr. Tom Walters, OFM, co-founded a non-profit called St. Francis Friends of the Poor, and established St. Francis Residence II on W. 22nd St. and, in 1987, St. Francis Residence III on Eighth Ave., between 17th and 18th Streets. Today, the three residences, owned and operated by St. Francis Friends of the Poor, provide permanent housing with supportive services to 255 formerly homeless tenants living with mental health issues.
"As one of the 'founding fathers' of St. Francis Friends of the Poor, Fr. Felice recognized back then that caring for mentally ill homeless persons would be one of the foremost and vital charitable efforts in the immediate future. He developed many of the programs used by St. Francis Friends of the Poor in its incredible programing structure for successfully caring for mentally ill homeless persons. Two of his hallmark standards and requirements are that each mentally ill homeless person is referred to as a 'client,' and that each client must always be treated with dignity. His efforts will be appreciated, admired and respected forever. We, along with all of the clients whose lives he has touched, will miss him," Patricia Edith Harris, Chief Executive Officer of Bloomberg Philanthropies, and Mark Denis Lebow, Board Chair of St. Francis Friends of the Poor, said in a joint statement.
"Fr. Felice took the simple, direct and pragmatic approach to the homeless and mentally ill on the streets of New York City by offering them housing and help with whatever they needed. The simplicity of this solution, the cost-effectiveness, and the humanity and dignity it extends is a feasible investment for every New York City neighborhood," said Ellen Baxter, founder of Broadway Housing Communities, an affordable and supportive housing nonprofit serving West Harlem and Washington Heights that was established in 1983, and on which Fr. Felice served as board chair from 2006 to 2016.
In the April 21, 1981 edition of The New York Times, the Community Service Society, a then-private, nonprofit social-welfare agency, called the St. Francis residences an example of what can be done to provide a place for the growing number of homeless people – a place where they might live with a "sense of self-worth and dignity," instead of wandering the streets. At the time, the New York City Mayor, Edward I. Koch, had issued a plea to the private sector for community-based support facilities to meet the homelessness crisis. Fr. Felice said back then that he was just responding to the mayor's call with a comprehensive solution to a complex problem – and that supportive services were a critical component to housing the city's most vulnerable population. It wasn't enough to just put a roof over their heads without the supportive services, he had said.
Fr. Felice was honored through the years by many organizations, among them The Supportive Housing Network of New York, for his innovative and pioneering efforts as the first to create housing for the homeless in New York City. He always described St. Francis Friends of the Poor as a "mustard seed" of an idea and "labor of love."
Fr. Felice spent his life as a Franciscan friar never more than 40 miles from his hometown of Patchogue, Long Island, where he was born on Christmas Eve, December 24, 1941 to Michael and Dorothea (Kelly) Felice. After graduating from Seton Hall High School in 1959, he attended St. Bonaventure University in Allegany, New York. But he said the "simplicity, heart and genuine affection for one another" and "work and spirit" of the friars he had met there left such an impression, that it inspired him to transfer to the Franciscan St. Joseph Seminary in Callicoon, New York, after his freshman year.
After a year of studies in Callicoon, he was received into the Order of Friars Minor with Holy Name Province in 1962 at St. Raphael Novitiate in Lafayette, New Jersey, where he professed his first vows the following year. He made his solemn profession of vows in 1966 and was ordained to the priesthood in 1968 at the Franciscan Monastery in Washington, D.C.
He completed his undergraduate education at St. Francis College in Rye Beach, New Hampshire, whose affiliation with St. Bonaventure University resulted in him receiving a bachelor of arts degree in philosophy from SBU. He received a degree of doctor of literature (LittD), a higher level of doctorate that is awarded to individuals who achieve special excellence, from SBU. He also studied theology at Holy Name College in Washington, and earned a bachelor of sacred theology degree from Catholic University of America in D.C.
While he was working toward a graduate degree in sociology at Catholic University, he was summoned in 1969 by Holy Name's provincial minister to serve in the Province's vocation office. He later became the youngest friar ever appointed, at age 31, as pastor of the Province's flagship, the historic St. Francis of Assisi Church on W. 31st St. in New York City – where he led a fraternity of 70 friars and provided pastoral and sacramental care to parishioners. He held the position for three terms, from 1973 to 1982.
It was at the end of his third term as pastor of the Manhattan church that he teamed up with Fr. McVean and Fr. Walters to establish St. Francis Friends of the Poor and open the St. Francis Residences. He served as president of St. Francis Friends of the Poor until 2016, a 36-year run that ended when health issues caused him to step down from day-to-day operations. He maintained a presence at St. Francis Friends of the Poor until 2021, when those same health issues resulted in his move to St. Lawrence Friary in Beacon.
Fr. Felice also held several high-level administrative positions in the Province, including two terms as provincial minister, from 1997 to 2006, and two terms as a councilor on the provincial council, from 1976 to 1982. Under his leadership, Holy Name Province expanded its outreach services and programs to the poor and marginalized. He also started the Province's pre-novitiate program in the Bronx, New York, where men discerning Franciscan vocation spent one year before professing first vows.
He also launched the Province's Justice, Peace and Integrity of Creation Office, encouraging friars to advocate for social justice issues wherever they were ministering in the Province. He asked SBU and Siena College, based in Loudonville, New York – both institutions founded and sponsored by Holy Name Province – to incorporate social justice into their curriculums.
In an interview on the occasion of his 50th anniversary as a Franciscan friar, Fr. Felice said of his own faith journey, "I have been a very lucky man. Being one of the friars has been the privilege of my life."
He is survived by his Holy Name Province confreres, a niece and nephew, and the hundreds of men and women who have resided at the St. Francis Residences over its 40-plus years.