THE CHURCH OF ST. FRANCIS OF ASSISI invites you to
A MORNING OF RECOLLECTION FOR PRIESTS
Mondays
12 / 5 • 2 / 27 • 5 / 1
9: 45am – 12:00 pm
(coffee and pastries & lunch provided)
San Damiano Hall
129 W 31 Street • NYC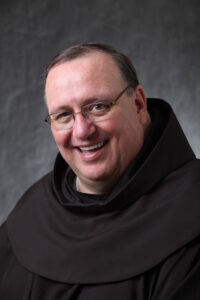 Kevin Mullen, OFM
December 5, 2022
Fr. Mullen has served as the 16th Provincial Minister of the Franciscan Friars of Holy Name Province, the largest province of the Order of Friars Minor in the U.S., since 2014. A native of Paterson, N.J., Fr. Mullen's pastoral ministry includes nine years at parishes in Bergen County, N.J., as pastor and parochial vicar, and nine years as rector and guardian at St. Anthony Shrine in Boston, Mass. During his 46 years as a Franciscan friar, Fr. Mullen has held several administrative and leadership positions for the Province, Order of Friars Minor, and Franciscan institutions of higher education. He holds a doctorate degree in moral theology from Catholic University of America in Washington, and a master's in divinity from Washington Theological Union.
Kenneth Himes, OFM
February 27, 2023
Kenneth Himes, OFM is a professor of theology at Boston College. His research and writing focus on ethical issues in war and peacebuilding, the development of Catholic social teaching, and the role of religion in American public life, as well as fundamental moral theology. He is a past president of the Catholic Theological Society of America and the editor of Modern Catholic Social Teaching (Georgetown University Press).
Dan Horan, OFM
May 1, 2023
Daniel P. Horan, OFM is the Director of the Center for Spirituality and Professor of Philosophy, Religious Studies, and Theology at Saint Mary's College in Notre Dame, IN. He previously held the Duns Scotus Chair of Spirituality at Catholic Theological Union in Chicago. He is a columnist for National Catholic Reporter and the author of fourteen books including the award-winning Catholicity and Emerging Personhood: A Contemporary Theological Anthropology (2019) and The Franciscan Heart of Thomas Merton: A New Look at  the Spiritual Influence on his Life, Thought, and Writing (2014).