The Great Depression impacted New Yorkers with hardship and turmoil, and brought an abrupt end
to a decade of nonchalance. With the election of Fiorello La Guardia as mayor, New York City finally entered an era of honest leadership which brought an atmosphere of decency and obvious compassion after years of scandal and corruption. The 1930s proved to be a remarkable comeback decade for the seven million inhabitants of the city.
At the Provincial Chapter of 1931 Fr. Mathias Faust was elected to the office of Minister Provincial, and Fr. Samuel Grega was appointed to succeed him as guardian and pastor of St. Francis of Assisi Monastery and Church.
Fr. Samuel was one of the most colorful and entertaining friars to ever live and minister at 31st Street. He was born in Taszo, Hungary on August 10, 1886, and
came to America as a youth to study for the Franciscan priesthood at the minor seminary in Callicoon, NY. Fr. Samuel's bombastic and flamboyant style as a preacher of parish missions for several years would make his 37 years of pastoral ministry at St. Francis Church.
After Fr. Samuel became the pastor of St. Francis he endeared himself to thousands as a wise counselor and compassionate confessor. He made a notable contribution to the devotional life of St. Francis Church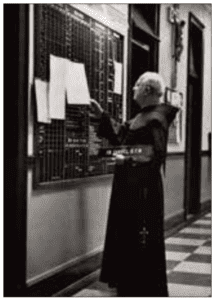 by introducing a great variety of popular devotions. The Tuesday service in honor of St. Anthony of Padua, which always drew large numbers of devotees, became so popular that 13 additional devotions had to be introduced each Tuesday in order to accommodate the ever increasing crowds. A perpetual novena to St. Joseph was initiated on Wednesdays, and this immediately proved popular with the people. He introduced weekly devotions in honor of Our Lady of the Miraculous Medal. But, without doubt, "the little church among the skyscrapers" became best known for the Holy Hour which was held every Thursday at noon, in the late afternoon, and in the evening.
To satisfy the demands of so many devotees of the church, the community of friars had gradually increased. In 1932, 31 priests were ministering at St. Francis Church. By 1944, the centenary years, more than 50 priests were stationed at the friary on West 31st Street. In order to accommodate the increase of friars, the parochial school was transformed into a friary annex.
Fr. Samuel continued to serve as a dedicated preacher and a popular confessor at St. Francis until 1967 when ill health forced the 80-year-old friar to go to the Province's infirmary. His ministry was marked by a patient, kind and joyful spirit which touched the lives of thousands during his 37 years here. When he was buried from St. Francis Church on March 14, 1968, the upper church was filled to capacity with friars, sisters, relatives and friends of the simple friar who loved everyone.
---
This series of articles on the history of our parish is adapted from the writ- ings of Fr. Flavian Walsh, O.F.M., Pastor from 1985-87.