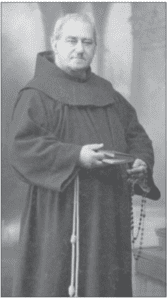 Fr. Polycarp Guerth was assigned as pastor of Saint Francis, but he died in December 1882. Fr. John Roser, a professor at Saint Bonaventure College, provided temporary coverage from March ]to July of 1883 when Fr. Cornelius Praetori was named pastor of Saint Francis. In 1888 he was replaced by Fr. Ludger Beck, who had 16 years of pastoral experience in Munich and Ratisbon in Ger- many, as well as a dozen years of missionary experience in America at the time of his appointment. 
Fr. Ludger was born in Ursulapoppenricht, Germany in 1832 and joined the Franciscan Order at the age of 23. Fearful that the May Laws which exiled their Prussian confreres would be extended to Bavaria, the Franciscan Provincial Minister sent Fr. Ludger to America to find a suitable place for the relo- cation of the friars in case of repression. Fr. Ludger served for a short time at St. Francis of Assisi in New York, and eventually moved on to Louisville, Kentucky where he found a potential home for his brothers back in Bavaria. The May Laws were never promulgated and the expected expulsion never materialized. Fr. Ludger worked in a German parish in Louisville where he was pastor of Saint Mar- tin Church for 12 years. The parish was taken over by the diocese and Fr. Ludger returned to the friars of the Allegany Custody. 
In 1888 Fr. Ludger was appointed to succeed Fr. Cornelius Praetori, who had served as pastor since 1883. Fr. Ludger imme- diately liquidated the parish debt of $14,000 and began to plan for the construction of a new parish church which would bring his people into the 20th century. 
This series of articles on the history of our parish is adapted from the writ- ings of Fr. Flavian Walsh, O.F.M., Pastor from 1985-87.