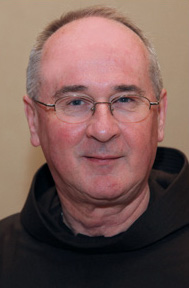 When you hear today's second reading, you may think that you have heard this reading before…and you have – probably at a wedding.
St. Paul's first letter to the Corinthians is famous for its use at weddings, but it is also very appropriate for our daily lives: "Love is patient, love is kind. It is not jealous, it is not pompous, it is not inflated, it is not rude…" (Read the rest yourself.) Where did St. Paul get this if not from Jesus?
In the Gospel for today, Jesus is in the synagogue and many were amazed at his words and teaching while others could not understand where this came from and even said in an insulting way: "Isn't this the son of Joseph?" It is amazing how Jesus does not react to this, but as the Gospel goes on to say: "…Jesus passed through the midst of them and went away." Love is patient, love is kind, it is not rude.
Last weekend our Franciscan brothers spoke to you about the Franciscan Challenge and asked for your assistance in providing funds for the education and training of our friars in formation,
care for our retired and sick and infirm friars and assistance to the charitable works of our ministries. We don't receive any funds from any Diocese or Archdiocese, and over the years your support has made all these things possible. Thank you and all of our benefactors for your support over the years. I received my seminary education through these funds and in my old age will depend on them for the health care that I may need. Every day at Morning and Evening Prayer in the Friary we pray for our benefactors, living and deceased. May the Lord bless and keep you!
-Fr. Andrew Reitz, O.F.M.