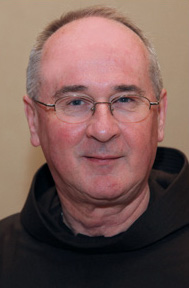 Please welcome our Franciscan Friars who will be speaking about the Franciscan Challenge at all the Masses this weekend. The Challenge is important since it helps support so many aspects of our Franciscan life and ministry: care of our sick, aged and retired Friars, education and formation of our younger Friars and how we Friars care for the poor and marginalized in society.I wanted to share with you what the Vicar General from our Archdiocese wrote about having to miss Mass because of inclement weather:
Very Rev. Joseph P. LaMorte
Vicar General & Chancellor
Archdiocese of New York
"…Remember that if weather conditions on any Sunday are so severe that your parishioners cannot make it safely to Mass, then they have a legitimate excuse for missing Mass without offending God and incurring any serious sin. That is when they truly become 'shut-ins'.
Encourage the faithful to use their time to keep the Sabbath holy by spending some time in prayer with the Lord, meditating on the Biblical readings of the Sunday liturgy, or making an act of spiritual communion. These are easily found on the Internet. They may also watch the televised Mass, pray the Holy Rosary or make use of other devotional prayers.
Advise everyone to check on neighbors, friends, and relatives – especially the elderly and those with disabilities."
Fr. Andrew Reitz, O.F.M.