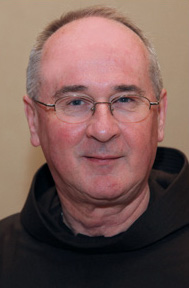 A Very Happy Mother's Day! The Friars and Staff send prayers and blessings to all Mothers and the Motherly on this annual celebration. Our lives are enriched by your care and dedication.
Today's short Gospel focuses on Jesus, the good shepherd. He says, "My sheep hear my voice; I know them, and they follow me." This sentence tells us many things: Jesus knows us and we are meant to be his followers. Jesus knows us better than we know ourselves. He knows our thoughts, our words, our desires, our hidden thoughts, the various aspects of our personalities; what we do and what we don't do. Yes, he knows us and yet, he calls us to follow him. Some days we are good at following Jesus, but on other days we prefer to do it "our way" and it may not end of all that good and yet Jesus continues to call us to follow him. This is amazing and it is also humbling that someone thinks so much of us to stick with us in good times and bad.
Because of the money that we have received from Renew and Rebuild, we have been able to do these projects; some were in the Renew and Rebuild Plan and others were emergencies:
Preliminary work on the organ
New telephone system
Technology upgrade
Roof repair and duct replacement near the elevator (not the church roof)
Heating valve replacement
Repair of broken pipes in the walls of the upper and lower sacristies and replacement of walls
I am grateful for the generosity of those who gave to Renew and Rebuild that covered the expense of these projects. We are currently looking at replacing some of the sidewalks on 31st Street because they are causing leaks in the basement.
We can still use your help for these and other capital projects.  If you would like to make a special donation  toward these and other maintenance projects please email me at areitz@stfrancisnyc.org or call me at 212-736-8500 x232.  Thank you.
-Fr. Andrew Reitz, O.F.M.