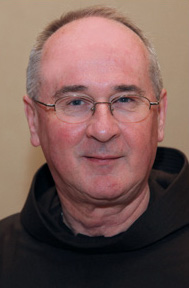 We have been hearing sections of the Book of Revelation for several Sundays and today we hear this beautiful passage: "Behold, God's dwelling is with the human race. He will dwell with them and they will be his people and God himself will always be with them as their God. He will wipe every tear from their eyes…" Reading this over and over, allowing it to sink into our minds and hearts has a very calming and reassuring effect on us. This is where and what God chooses to be, and this is the relationship that God chooses to have with us. The reading also says, "Behold, I make all things new."
Our celebration of this Easter season and what we are offered is what we need during these unsettling times. When we are more attentive to this, we are different and if the world were more attentive, many things would be different.
I hope to see you at the Korean Bazaar this Sunday afternoon. It is held on Broadway between 31st and 32nd Street just a short walk from the church. You will find many wonderful Korean food specialties, drinks, tents filled with items to buy, and a raffle.
The Korean drum group will lead a short parade to Broadway and perform for everyone. It is only one day, so don't miss it. The Bazaar takes much planning and many people to set it up and take it down and work throughout the day. See you there!
-Fr. Andrew Reitz, O.F.M.