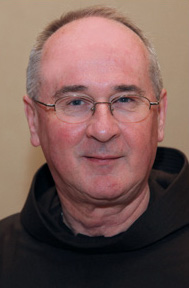 In today's Gospel of John we hear: "Peace I leave with you; my peace I give to you. Not as the world gives do I give it to you. Do not let your hearts be troubled or afraid." The peace that Jesus offers is different from the peace that we want in the world where divisions, prejudice and animosity cause hatred among nations and people. The world wants these to cease and for harmony to be established. Jesus offers us something deeper and lasting. Fear and anxiety no longer control us, and even though there may still be reasons to be afraid and troubled, Jesus offers us his life giving presence in our lives. He will come and "make his home in us." He will help us move beyond and let go of what prevents us from having that peace that the world cannot give. We have to allow Jesus to have a key place in our lives.
Monday, May 27, is Memorial Day, a day to remember the many men and women who laid down their lives for our country and what we stand for: freedom, equality, the dignity of each person, and the fact that we are all brothers and sisters. When I was growing up, Memorial Day was called Decoration Day because the graves of our loved ones were planted with flowers and flags were put on veterans' graves. There were Masses at the cemetery and parades, all to honor those who had given their lives. I like to also add a remembrance for their families who had their own struggle at these times, both in the past and now. Take some time over the weekend to say a prayer for these heroes.
-Fr. Andrew Reitz, O.F.M.