SUBSCRIBE TO OUR YOUNG ADULT EMAIL LIST HERE
Our approach to Young Adult Ministry:
This is a ministry of, by, and for Catholic men and women in their 20's and 30's. At St. Francis we believe that ministering to young adults, or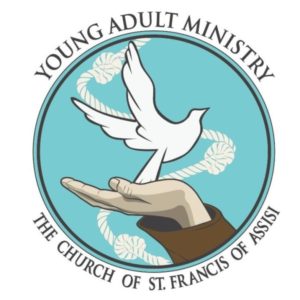 for that matter ministering to people of any age, begins by creating an environment where people feel welcome. This welcoming spirit should lead people to feel at home by worshiping God together in a way that feeds the spirit: with inspired preaching from our priests and music that helps lift minds, voices and hearts to God. Finally, our contact with Christ together in the community of the church should help us to hear Jesus' call to serve one another, and those in need wherever we meet them.
In other words, young adults at St. Francis are invited to deepen their relationship with God, to be part of a community of faith where real relationships are formed that help each of us grow as people of faith, and to find meaningful opportunities to get involved.
Regular Meetings:
Right now there are no regularly scheduled meetings.  Events to support the spiritual lives of our young adults and social events to strengthen the bonds of community within our ministry and our parish are sent out via email and on Facebook.  We host a variety of events throughout the year to strengthen our understanding of our Catholic faith, to deepen our spirituality, to welcome new people into our Young Adult community and to foster deeper community among our members.
Young Adult Mass
While all of our Masses welcome people in their twenties and thirties, most young adults at St. Francis tend to come to the 5:00 PM and 6:15 PM Sunday evening Masses.
To receive emails about Young Adult Ministry events  please CLICK HERE and select YOUNG ADULTS under "Specific Areas of Interest."

We also post our events in our FaceBook page which you may request to join here: https://www.facebook.com/groups/stfrancis.youngadults/
If you would like more information about our ministry, you may email us at youngadults@stfrancisnyc.org.