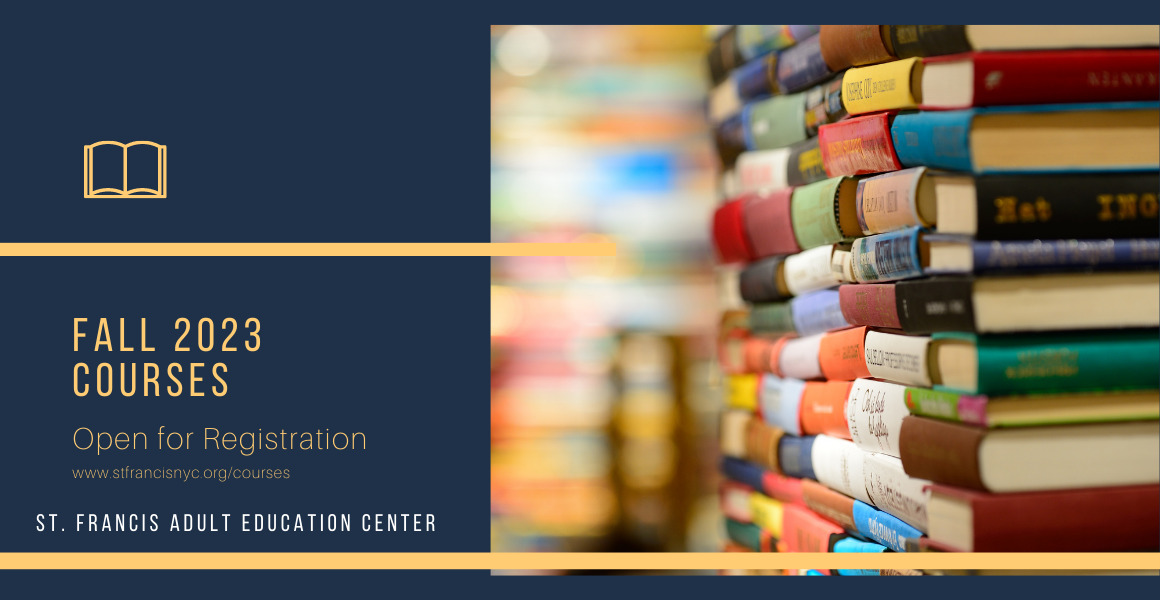 The Church of St. Francis of Assisi has long dedicated itself to ongoing faith formation of Adults through our Adult Education ministry.
Our Fall 2023 courses are now listed online and open for registration at: www.stfrancisnyc.org/courses/.
Subjects range from theology, biblical studies, and liturgy to literature and poetry.  Here are the titles of the courses for this upcoming semester:
Offering a Sacrifice of Praise: The People's Part in the Liturgy – $80

Catholicism 101: The Liturgical Year – $70

Praying with Chant: Singing as a Creative Form of Prayer – $50

Charles de Foucauld – Saint of the Sahara – $30

Catherine of Siena Part 2: The Bridge and Beyond – $30

Thomas Merton: A Spiritual Guide for the 21st Century – $50

Leo Tolstoy: Shorter Fictions and A Quest for Truth – $60

Robert Frost: A Poet of Many Moods and Modes – $60

Walk Dublin with James Joyce – $80

A Beginner's Guide to James Joyce's Ulysses – $80

Great Music Inspired by the Old Testament – $60

Dante and the Soul's Journey: An Intro to the Divine Comedy – $80

Genesis, Exodus, and Egypt: An Overview – $70

While we try to keep our registration fees low (generally about $10 per hour of instruction) we also understand that for some this can be a burden.  We do not want anyone who wants to attend a class to be prohibited by economic hardship.  Please contact Joseph Nuzzi, Director of Adult Education and Evangelization for information on scholarships:  jnuzzi@stfrancisnyc.org or 212-736-8500 x365.